Sony Vegas 7 + DVD Production Suite
Platform:

Windows


Manufacturer:

Sony


Type:

Retail Boxed, Full Edition


MPN:

SVDVD7000

Stock Code:

1224247

More:

Sony Vegas

Availability:

Call For Availability
Related Products
Product Description
The Vegas+DVD Production Suite combines Vegas 7, DVD Architect 4, and Dolby Digital
AC-3 encoding software to offer an integrated environment for all phases of professional video, audio, DVD, and broadcast production. This suite lets you edit and process DV, HDV, SD/HD-SDI, and all XDCAM formats in real time, fine-tune audio with precision, and author surround sound, dual-layer DVDs.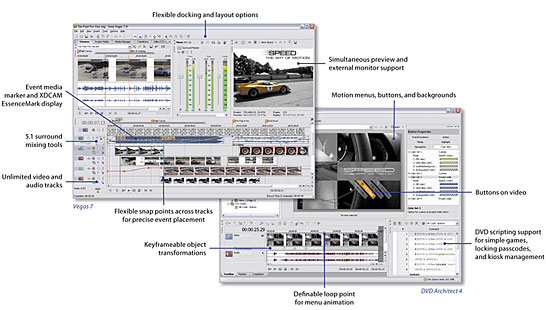 Precise Editing Tools Arrange events on the timeline using Windows drag-and-drop functionality, then expertly edit complex SD or HD projects using mouse or keyboard trimming and powerful ripple editing modes. Features include improved video monitoring, customizable window layouts, color-coded snapping, improved HDV, SDI and XDCAM support, Cinescore plug-in support, A/V synchronization detect and repair, play head scrubbing, drag ripple and arrange, source project editing, and auto-frame quantization. More about video editing
Efficient, Professional Workflow
The Vegas 7 interface provides a fully customizable workspace for accomplishing a wide range of production requirements. Dock multiple windows across multiple monitors, and save your layouts to fit specific editing tasks; nest Vegas projects within the timeline, customize and save keyboard commands, and use application scripting to automate repetitive tasks. System-wide media management produces maximum efficiency. Network rendering saves time by using multiple computers and networked drive arrays to render complex projects. Vegas software also supports 24p, HD and HDV editing. More about the Vegas+DVD workflow. More about the Vegas+DVD workflow
Superior Audio Control
Vegas software provides the ultimate in audio flexibility, including unlimited tracks, 24-bit/192 kHz audio support, on the fly punch-in recording, 5.1 surround mixing, effects automation, and time compress/expand. Apply over 30 customizable, real-time audio effects including EQ, Reverb, Delay, and more. Vegas 7 software natively supports VST audio plug-ins-expanding your audio processing and mixing options.
More about audio production
Powerful DVD Authoring Create DVDs with multiple video angles, subtitles, multiple languages, and running commentary. Apply image-correction filters to fine-tune still images and video. Filters include Brightness and Contrast, Levels, Auto Levels, Crop, and Anti-Flicker. Set CSS and Macro vision copy-protection flags when creating masters. DVD Architect 4 software also supports the latest devices including dual-layer DVD burners. More about DVD creation
Sony Vegas+DVD Production Suite : System Requirements
Specifications / System Requirements
Version
7.0
Language(s)
English
Distribution Media
DVD-ROM
Package Type
Retail Boxed Package
License Pricing
Standard
License Type
Complete Package
License Quantity
1 User
System Requirements:
Operating System
Microsoft Windows 2000 SP4, XP Home, or XP Professional (Windows XP SP2 required for HDV and XDCAM)
Min CPU
800 MHz processor (2.8 GHz recommended for HDV)
Min HDD
600 MB
Min RAM
256 MB (512 MB recommended)
Peripheral Devices
CD- or DVD-ROM drive
Other Software Requirements
Internet Explorer 5.1 or later
Extra Details
System Requirements:
Microsoft Windows 2000 SP4, XP Home, or XP Professional (Windows XP SP2 required for HDV and XDCAM)
800 MHz processor (2.8 GHz recommended for HDV)
200 MB hard-disk space for program installation
600 MB hard-disk space for optional Sony Sound Series Loops & Samples reference library installation
256 MB RAM (512 MB RAM recommended for HDV)
OHCI-compatible i.LINK connector/IEEE-1394DV card (for DV and HDV capture and print-to-tape)
Windows-compatible sound card
DVD-ROM drive (for installation from a DVD only)
Supported CD-recordable drive (for CD burning only)
Microsoft DirectX 9.0c or later
Microsoft .NET Framework 2.0
Internet Explorer 5.1 or later
Product requires online registration within 30 days
a
i.LINK is a trademark of Sony Electronics, used only to designate that a product contains an IEEE 1394 connector. All products with an IEEE connector may not communicate with each other.
Included on DVD-ROM
Sony Vegas Movie Studio: System Requirements
NOTE
Product information, specifications, and compatibility are for advisory purposes only, and is the buyers full responsibility to verify with the manufacturer prior to ordering.